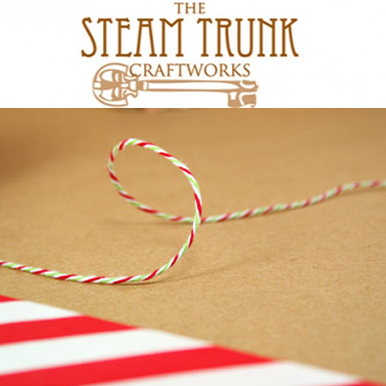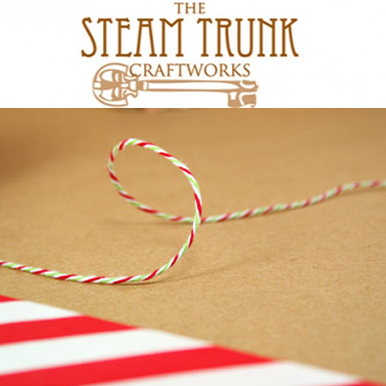 NO SCRAP LEFT BEHIND. Have you seen Amanda Jean Nyberg's latest book? I love scrappy quilts, especially her quilt called JUNE. However, I have discovered I am not a scrappy quilter. I once, by a misunderstanding, thought I had been asked to iron all my scraps for a demonstration. I think perhaps that's when my brain went "Nope"! I do find MUCH happiness in giving away my scraps to new quilters... you know, to really get them hooked. When Amanda Jean was signing my book she asked if I was a scrappy quilter. I told her everything I just told you. She thought that was very ninja of me... but she also inscribed my book with instructions: Lysa! Use your scraps!
Hey do you remember my last week's recommended designer, Gail Myerscough? She just released her new Christmas card collection. Ooo and it has those cats I love!
Speaking of Christmas; The Steam Trunk Craftworks has plenty of Christmas-y goodies up on their site; trims, buttons, felt and the cutest bakers twine! Can you ever have too much bakers twine? Um... I'm pretty sure you can't, which is why I just bought the one called Christmas Candy. Last year we discovered recycling centers won't take wrapping paper anymore. I know, we were shocked too! It's because of the finish on the paper. We decided we'd switch to kraft paper, ribbons or strings that could be recycled (I may even sneak in a piece of holly or cedar for some extra holiday cheer).
Switching gears - Have you noticed a strong cat theme in fabric lately? Check out Felice Regina's Caturday (for Windham Fabrics) on Hawthorne Threads. Look closely at Asterisks in Gold, Orange and Red Violet. Guess what those "Asterisk's" are? Look closer... closer... yep! It's what you thought, cat butts! Hilarious right?! Ooo and she has the BEST enamel pins! Check out her Merry Cats-mas enamel pins HERE!
RECOMMENDED DESIGNER TO KEEP AN EYE OUT FOR: Anette Heiberg! She makes THE happiest, cutest patterns! They make me giggle every time I see them. She's from Norway and just had a sweet little baby! You can see teeny little glimpses of toe-zees and little fingers tucked under some of Anette's own fabrics on her Instagram account @anetteheiberg. Oh and she also illustrates children's books!
RECOMMENDED FOR YOUR PLAYLIST: Let's see if I can get through this with out crying. This past week our collective Canadian hearts broke when we lost Gord Downie, the lead singer of the Tragically Hip. We were lucky enough to see them play a handful of times including their farewell tour in 2016. It was an emotional roller coaster and the complete definition of bitter sweet. With much love